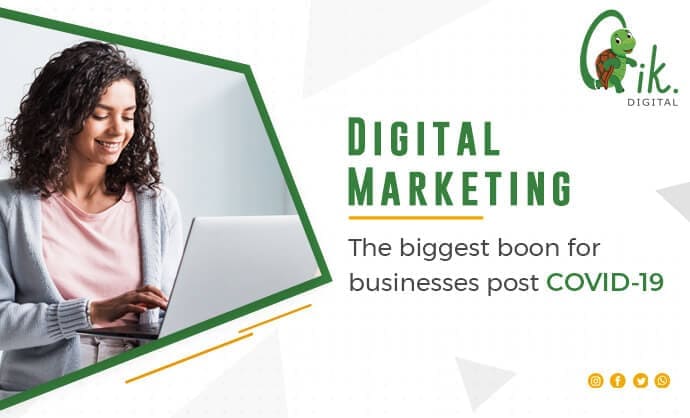 The business world has been hit hard by the pandemic. Although there is a disquieting situation in the present scenario, advertisers are cruising through this time with digital marketing techniques like never before. Perhaps, this is an incredible opportunity to focus on your site's optimization and streamlining. The move to the digital marketing methods will be amazingly useful in the long run. In spite of the fact that it's questionable right now about how we continue life back to ordinary, there are digital marketing approaches to make a dull business powerful. In fact, digital marketing can bring life to any slow business in the current situation, if planned in the right way.
No other platform is as effective as digital marketing in uniting marketers and target audiences!
EMERGING TRENDS IN DIGITAL MARKETING

Switch to digital mode
Since the flare-up of the pandemic physical meet-ups are declining. This influences the manner in which advertisers and organizations are dealing with their digital needs. So, now the question is which method is suitable for the developing change? This is the ideal opportunity when business owners can be mindful towards their digital method of showcasing and pick creative approaches to move toward potential customers. Providing services in one click on their telephone and PC screen will profit your business and bond you better with your customers for future arrangements.
How do you do this?

The Covid-19 trend
Due to the strong influence of Covid-19, a significant effect is found in the customers' online behavior. Coronavirus related themes are dominating the search list of clients, and this suggests a move towards techniques relating to Covid-19 flare-up.
Let us look for the best way to have a bit of the internet strength.

Reduced Traffic
In recent times, mobile search traffic decreased by about 25% because of the pandemic. The regular traffic we can generally rely on is currently starting to diminish.
How to react to this?
All the above digital marketing techniques will help increase your productivity during these tough times. Remember that advertisers despite everything have authority over how they are introducing their business before their customers. In the midst of Covid-19, you should make sure that you remain active and accessible to the customers by keeping in touch with these emerging trends because customers look for fast assistance, and as an advertiser, it gets fundamental for you to follow these new trends and stay upgraded to be available to help existing clients and connect with the fresher ones.
It is essential to partner with the best digital marketing agency in order to reap the maximum benefits. QIK.DIGITAL is a successful digital marketing agency in Chennai which can transform your dreams into reality. We pride ourselves in supporting growing businesses to achieve the set goals. Give us a call now to uplift your business with our customized digital marketing services!