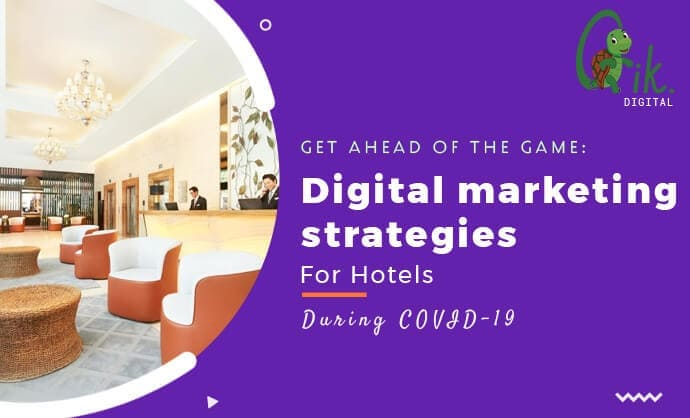 With the unprecedented effect of COVID-19 on all our lives, the hotel industry is no exception as it would face a great challenge in the coming months. The news around COVID-19 is continually changing. However, it is better that we resist the fear of loss, and act dependably both in our own lives and as organizations attempting to explore these unfamiliar situations. These are difficult times for hoteliers, yet it's imperative to remember that we'll bounce back. And it is better to take time to rethink and pull together on our current client base and marketing strategies.
Read on to find about a few successful digital marketing ideas to assist you with keeping up your place and to make ready for a solid bounce back.

Add the COVID-19 UPDATE page to the website
With this page on your website, you can give clear information about your present status during this period. Make sure that you address frequently asked questions and consider the concerns clients may have on visiting your hotel. Regular questions may include your present status, safety, changes in cancellation policies if any, measures taken during this time, and cancelled events. Tell people where to search for future updates and who to contact for additional information. Affirmation of the government guidelines and important precautionary measures taken will reassure your customers and give them trust in your choices.

Keep the COVID-19 UPDATE page noticeable
It is good to keep this page more noticeable now. A typical arrangement would be to keep an announcement bar - a little bar at the head of each page on your site, which incorporates a link to your full information. This will permit the accessibility of the page without diverting from your services.

Convey your status through social media
Create social media posts with a short explanation and a link to your page because clarity of information is the most important thing during these trying times. Where text is constrained, for example, on Twitter, compose a short post with your center message and a link to your full explanation on your site. On Instagram, you might need to include your new page as the main website link on your profile in order to direct your customers towards that page in posts and stories. Stories additionally offer a decent chance to reach your customers without wandering from the visual significance of Instagram. This type of consistent communication with your existing customer base can guarantee success in the future!

Do mail your customers please
In these testing times, it is important to mail your customers as you might need to communicate something specific out to your people to convey the message. E-mail marketing platforms of GI Social, Mailchimp or Campaign Monitor would be very useful in sending the message to your clients and the individuals who have subscribed to know the updates.

Tell your customers what you're actually doing
If you're open in some part, be clear about the measures you're taking to limit disease in order to help people visiting your hotel. Common measures such as no physical contact, for example, handshakes, expanded cleaning systems, distanced restaurant seating to promote social distancing, other measures to check staff's health condition, increased accessibility of hand sanitizer, adherence to strict rules, contactless payment methods, touchless check-in and check-out, and adherence to government guidelines.

Also support your nearby network
In case you're ready to help your nearby community of COVID-19 warriors during this time, utilize your social media channels to get the message out to the individuals who may be benefitted. You can always keep them informed about the free schemes and rooms availability in the hotel.
Thus, keep on observing the situation and constantly update your customers through all the digital media channels. After all, digital marketing is the best choice to make your customers feel reassured and positive about the experience you offer during these difficult times.
Remember that you need the right support for actualizing any of these ideas, and that's the reason QIK.DIGITAL is here and prepared to help! Book your digital marketing service today with us for maximum profit during COVID-19.